Urban Park Bangkok
66/17 Bang Waek Road, Phasi Charoen, Bangkok 10160, Thailand
Facebook Page บ่อตกปลาเงาน้ำ
New Bungsamran
Sala Daeng, Bang Nam Priao District, Chachoengsao 24000, Thailand
The New Bungsamran is 35km from the Airport Suvarnabhumi – Bangkok.
The lake is every day for fishing open 24 hours:
Visit Website http://www.bungsamran.com/
IT Lake Monsters
Predator & Arapaima Fishing
T Monster lakes are situated in the Province of Ratchaburi surrounded by countryside where the Mao Klong river flows through its centre which is famous for its presence of large stingray and the Damnoen Saduk Floating Market. The lakes are 1.5 hours' drive East of Bangkok centre and a a similar distance from Jurassic Mountain Resort.
The venue is famous for its predator fishing, but the venue boasts two lakes nestled in the countryside surrounded by flat grassy banks and is steeped in history over the 12+ years it has been open. The setting is reminiscent of a European carp water with overhanging trees skimming the surface of the water and small areas of snags forming natural habitat.
Facebook https://www.facebook.com/It-Lake-Monster-by-Tawan-
Pilot 111 Fishing Ponds
Pilot 111 Fishing Ponds located 1 hour drive from downtown Bangkok is Thailand's first lure fishing complex to offer a diverse range of predator fish species throughout 10 well stocked ponds
See facebook Page https://www.facebook.com/pilot111fishingpond/?rf=596594070708373
Bangpakong Fishing
Just 53 minute drive south of Bangkok
56 Moo 16, Bang pakong
24130 Bang Pakong
See Facebook Page https://www.facebook.com/BornoomPage/
73/1 Thung Khwang, Kamphaeng Saen
73140 Nakhon Pathom
About an Hour west of Bangkok
Facebook Page: https://www.facebook.com/amazonbkkfishing
PALM TREE LAGOON FISHERY
The Lake is situated in Ratchaburi Thailand, half way between Bangkok and Hua Hin,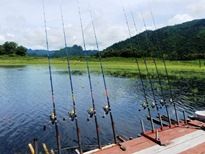 Wangplakan Fishing Resort Kanchanaburi
Wang Pla Guesthouse
& Fishing Park
24 Moo 2Tambon Takramean, Samnakroh
Tha Maka 71130 Kanchanaburi, Thailand
Phone:
        +66 95 483 5265   +66 83 253 604
E-Mail:
wangplakan@gmail.com Website: https://www.wangplakan.com/